Ideal for breakfast or any meal, Shakshuka is a swift, nutritious delight. Tomatoes, bell peppers, onions, and garlic meld flawlessly, cradling poached eggs. Crafting a gourmet experience at home is effortless, showcasing a symphony of flavors in mere moments.
Unfamiliar with shakshuka? Hailing from North Africa and the Middle East, it's a hearty, one-pan marvel. Translating to "mixture" and pronounced shuhkᄋshyooᄋkuh, shakshuka is your versatile delight. Nourishing and simple, relish it for breakfast, lunch, or dinner, with bread or salad by its side.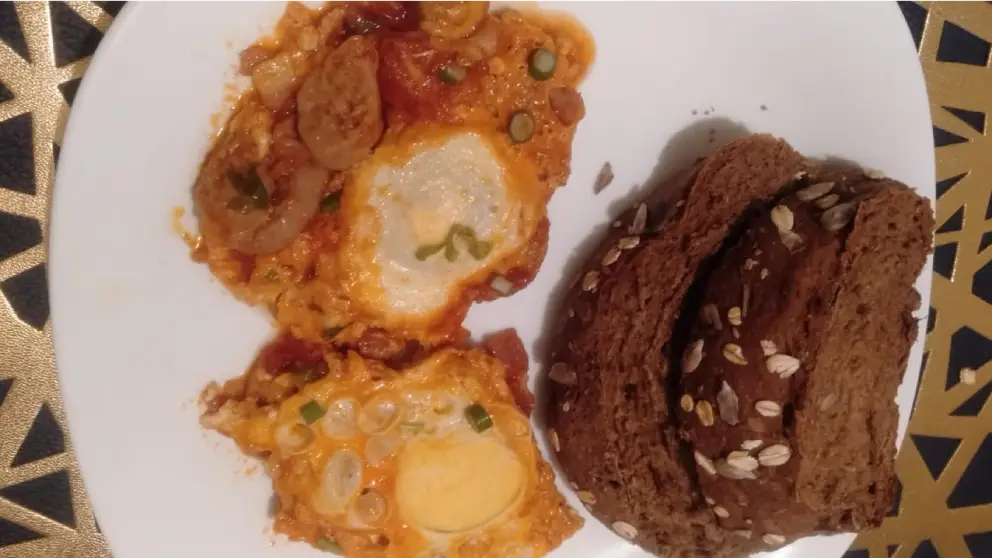 Ingredients
Oil for cooking
1 large onion or 1.5 small onions, diced
1 bell pepper, diced
4 cloves garlic, minced
1 teaspoon paprika
2 teaspoons ground cumin
1 teaspoon chili powder
1/2 teaspoon salt (adjust to taste)
1/2 teaspoon black pepper (adjust to taste)
1 can (28 ounces) whole peeled tomatoes
6 large eggs
Fresh parsley, chopped (for garnish and stirring in)
Crusty bread (for serving)
Guide
Add oil into a cast-iron skillet over medium heat.
Once hot, add the onion and bell pepper. Cook for about 12 to 15 minutes before adding the garlic.
Stir in the canned whole peeled tomatoes and use a wooden spoon to break them up into small chunks.
Stir in parsley.
Bring the mixture to a boil over medium heat and then simmer until mixture has been slightly reduced about 20 minutes.
Create a well in the pan, slightly larger than an egg, using the back of a large spoon. Then, add one egg to the well. Repeat with the remaining 5 eggs.
Cover the pan and cook until the egg whites set, but the yolks are still runny, about 12 to 15 minutes.
Garnish the shakshuka with parsley and serve immediately with crusty bread.
Tips for making this recipe
If concerned about eggshells, crack eggs into a bowl first.
A large saut← pan works if you don't have a cast-iron skillet.
Try other vegetables like mushrooms, spinach, kale, etc.
Add cheese such as mozzarella, feta, or goat cheese.
For a prettier dish, strain the egg in a fine-mesh sieve before adding it to the pan.
Lighten it up by simmering with honey if finding it too acidic.