Falafel is a flavorful and widely enjoyed Middle Eastern dish made from ground chickpeas or fava beans, mixed with various herbs and spices, and then deep-fried until golden and crispy. These deliciously crispy and tender balls are often served in pita bread pockets with fresh vegetables, tahini sauce, and sometimes hummus.
Originating from the Middle East, particularly Egypt, falafel has a rich history that dates back centuries. Its exact origin is debated, but it's believed to have been consumed as a meat substitute during times of fasting. Over time, falafel has become a popular street food and a staple in Middle Eastern cuisine, enjoyed across many countries and cultures.
The mixture's base ingredients—chickpeas or fava beans—provide a good source of protein and fiber, making falafel a nutritious choice. Its versatility and satisfying taste have led to its global popularity, making it a beloved vegetarian and vegan option, as well as a favorite among meat eaters.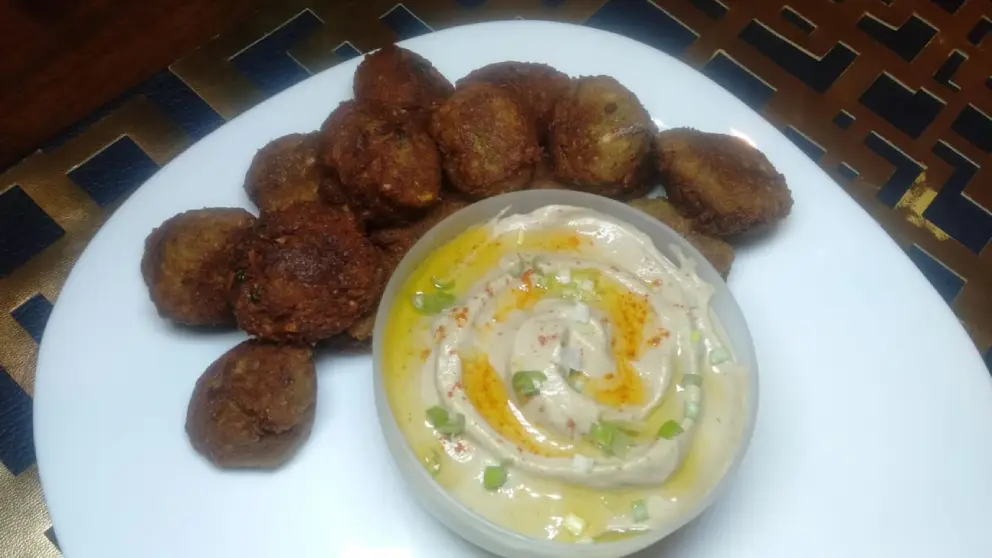 Ingredients
2 cups (400g) dried chickpeas (not canned)
1 small onion
3-5 garlic cloves
1/3 bunch parsley
1/2 bunch cilantro
4 tablespoons (30g) flour/breadcrumbs or chickpea flour (for gluten-free version)
1¼ teaspoon salt
1/4 teaspoon pepper
1 teaspoon cumin
1 teaspoon paprika
2 teaspoons baking soda
Oil for frying
For serving: pita bread, tahini sauce, salad
Guide
Put the chickpeas in a large bowl and cover them with about 2-3 inches of cold water. Let them soak overnight, then wash and drain.
Place the washed and drained chickpeas into a food processor. Add garlic cloves, onion, parsley, cilantro, baking soda, and spices. Process until the mixture is smooth but crumbly.
Transfer the mixture to a large bowl, add breadcrumbs, and mix until well combined. Cover and refrigerate for 1 hour.
Heat oil to 360°F (180°C).
Remove the falafel mixture from the fridge and, using wet hands, shape it into 1-inch balls.
Fry the falafels in batches of 4-6 at a time, until they are golden brown and crispy, which takes about 3-4 minutes. Transfer them to a paper towel to drain.
Serve the falafels as they are or in a pita bread, along with salad and tahini sauce.