how to make
Cinnamon eggy bread with quick stewed apples
This delightful dish embodies everything you crave: simple preparation, delicious flavors, and a budget-friendly touch. Savor the perfect blend of crispy bread, warm spices, and caramelized apples for a truly satisfying experience. Indulge in an easy, delightful, and wallet-smart culinary adventure.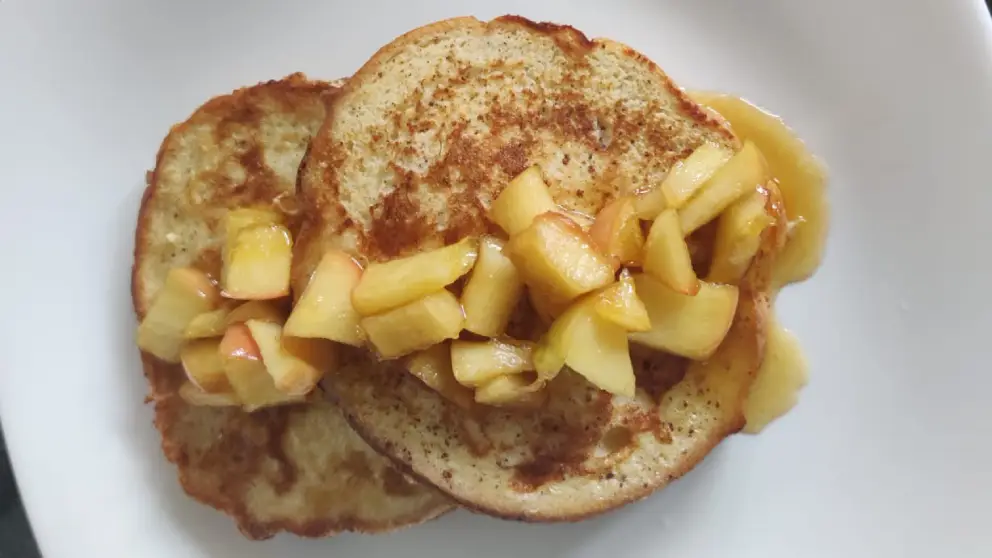 Ingredients
Slightly stale bread (before 5 days old)
Sugar
Butter
Apples (with skins on)
Eggs (3 whole)
Milk (about 4 tablespoons)
Cinnamon (1 teaspoon)
Oil
Guide
Start with slightly stale bread, preferably a few days old, to prevent sogginess.
In a hot pan, sprinkle sugar and caramelize it to a light caramel.
Add apples with skins on to the caramel, allowing them to caramelize and form a rich butterscotch sauce.
Whisk 3 whole eggs and add about 4 tablespoons of milk to create a thick and rich egg mixture.
Sprinkle in a few tablespoons of sugar and a teaspoon of powdered cinnamon into the egg mixture.
Heat a pan with a teaspoon of oil and a knob of butter for frying the bread.
Dip slices of bread into the egg mixture, then fry until golden brown on both sides.
Place the caramelized apples on low heat.
Serve the golden-brown egg bread topped with the caramelized apples and drizzle the sauce over.
Add a touch of powdered sugar for presentation, if desired.